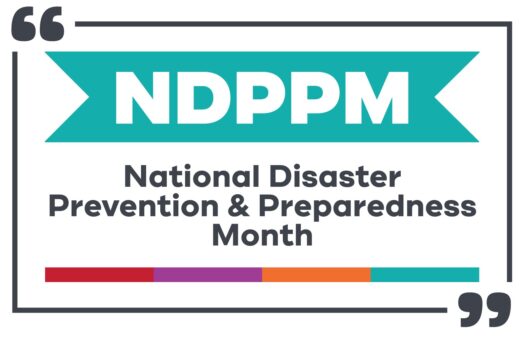 The National Disaster Prevention and Preparedness Multi-sectoral Committee (NDPPMC) invites you to participate in four (4) weeks of activities during the month of May, to bolster our nation's disaster prevention and preparedness capacity.
The National Disaster Prevention and Preparedness Month (NDPPM) is a call to action for all persons to get involved in disaster prevention and preparedness activities prior to the commencement of the Atlantic Hurricane and Wet Seasons.
The Atlantic Hurricane Season commences on June 1st, while the Wet Season begins around the same time.
The theme for this year's NDPPM is "Be Prepared! Be Secured! Be Ready!" Activities will take a whole-of-society approach that will encourage individuals, communities, the public and private sectors, NGOs and resident international institutions to become better prepared by firstly, understanding their risks and then taking action to prevent or mitigate these risks.
This overarching theme signifies a national call to action.  It places emphasis on the role that individuals, communities and organisations must undertake to put our nation on the pathway to disaster readiness and resilience.  Over the four-week period, the programme will place emphasis on a four (4) step progress for disaster preparedness. This is summarised below:
Week 1 – Know and Reduce Your Risks
Week 2 – Make/Review your Emergency/ Business Continuity Plans
Week 3 – Build a Kit
Week 4 – Act and Assist Others
Commencement Date
The month of activities commenced on May 1, 2022 and it was launched on the evening of Saturday, 30th April, 2022 by the Minister of National Security, the Honourable Fitzgerald Hinds, MP, via a televised broadcast.
Highlights of the Month's Activities
The following calendar briefly highlights some of the activities that will be undertaken during the month of May: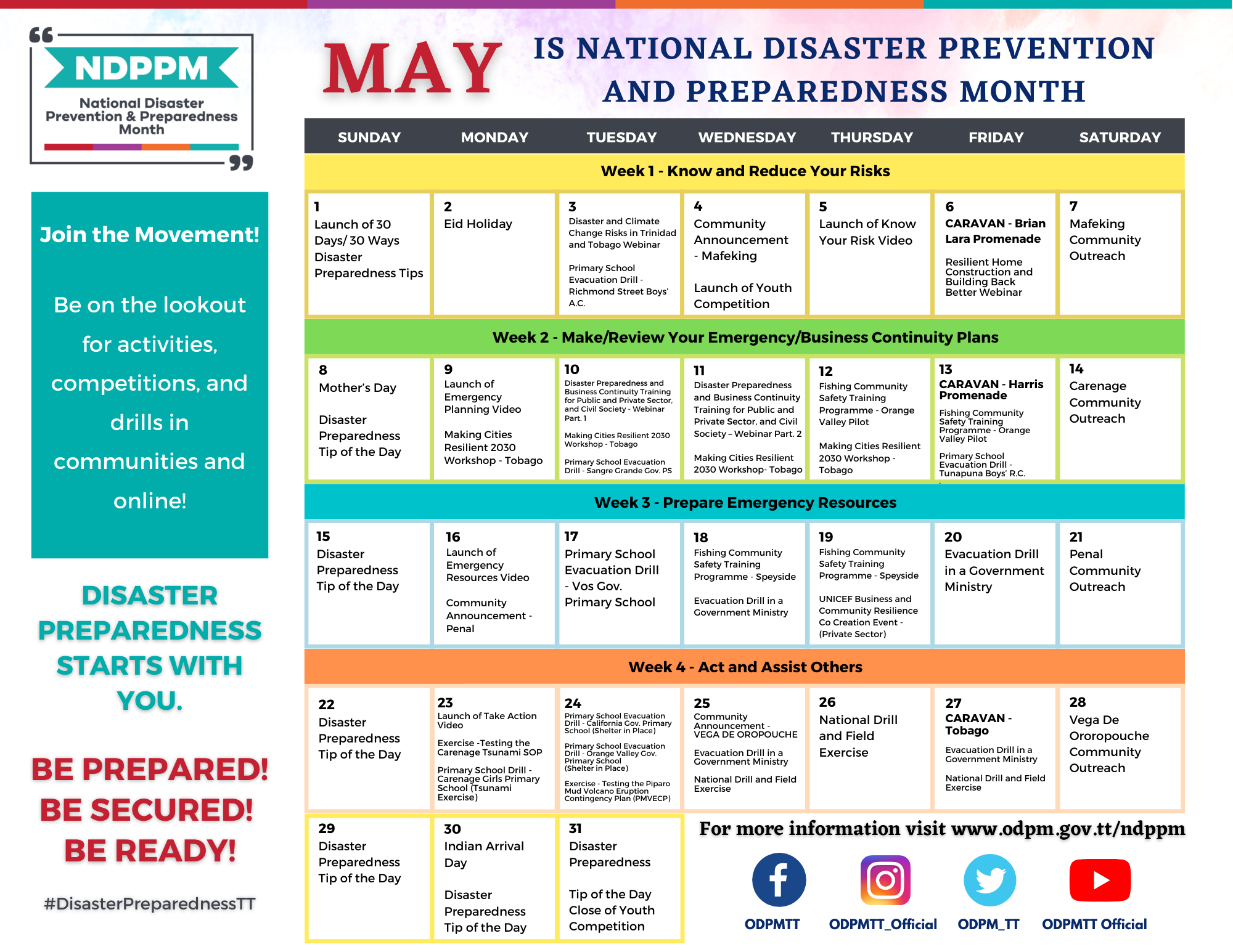 Purpose of the National Disaster Prevention and Preparedness Month
The strategic purpose of declaring a National Disaster Prevention and Preparedness Month (NDPPM) in Trinidad and Tobago, is to holistically increase our nation's disaster prevention and preparedness and by extension, the country's disaster readiness and resilience.
While disaster prevention and preparedness are year-round activities, the month of May brings to focus the need to promote a heightened sense of awareness, preparation, and readiness.   May is particularly important because it is the month prior to the commencement of the Atlantic Hurricane Season, which is almost in alignment with the Wet Season.  Traditionally, this period is marred by significant loss caused by heavy rainfalls across the region, Trinidad and Tobago being no exception.  Losses from such hydro-meteorological hazards result in damages to infrastructure, loss of lives, livestock, livelihoods and reduction in the country's revenue earning capacity.
Background
Across the global landscape, there have been increasing incidents of catastrophic disasters with wide-reaching consequences. Although Trinidad and Tobago has been fortunate to be spared from major disasters in the recent past, we must be cognisant of the potential vulnerabilities caused by worsening disasters, some of which are exacerbated by climate change.  This underscores the need for the national community to avoid complacency and develop attitudes that direct our consciousness to preventing, preparing for, and responding to disasters that emerge as a consequence of multiple hazards.
The NDPPM is an innovation on our national disaster risk reduction and management landscape and it is aligned to national, regional and international strategic priorities.  At the national level, it supports Themes (I) and (V) respectively of the Vision 2030 National Development Strategy.  Theme (I) identifies Putting People First: Nurturing Our Greatest Asset while Theme (V) is Placing the Environment at the Centre of Social and Economic Development.
At the regional level, the proposal advances the Caribbean Community's (CARICOM) Strategic Priority 3 – Building Environmental Resilience, as well as all four (4) priorities of the United Nation's Sendai Framework for Disaster Risk Reduction, which Cabinet agreed to adopt in December 2019.  These priorities are;
Understanding disaster risk;
Strengthening disaster risk governance to manage disaster risk;
Investing in disaster risk reduction for resilience; and
Enhancing disaster preparedness for effective response and to "Build Back Better" in recovery, rehabilitation and reconstruction.
Management of the NDPPM:
Coordinating Agency
Given its coordinating role as the National Disaster Office (NDO), the Cabinet designated the Office of Disaster Preparedness and Management (ODPM), a Division of the Ministry of National Security (MNS), as the national coordinating agency for the NDPPM.
The NDPPM Committee
To ensure a whole-of-society approach is taken to these annual preparations and to ensure national focus is maintained on disaster prevention and preparedness throughout the year, a multi-sectoral committee was established.
The Mandate and Structure of the NDPPM Committee
The multi-sectoral committee is mandated to identify the multiple hazards that may affect Trinidad and Tobago and to develop and implement strategies to prepare for, respond to and recover from them.  This committee is accountable to the Cabinet, through the Minister of National Security, and is chaired by the Chief Executive Officer of the ODPM.  The committee comprises senior representatives of Ministries, Divisions and Agencies identified below as Participating Agencies and it may co-opt representatives of other organisations as necessary.  It will ensure a whole-of-society approach is taken during the NDPPM's preparations, and maintain a national focus on disaster prevention and preparedness throughout the year.
Cross-functional sub-committees have also been established and they were responsible for planning and the execution of the weekly activities. Beyond the NDPPM, the sub-committees' long term objectives include:
Increase understanding and risk knowledge of hazards such as tropical cyclones, bush fires, earthquakes, tsunamis, floods, and mud volcanoes.
Strengthen awareness of defence mechanisms – Early Warning Systems, physical barriers, and disaster management strategies.
Encourage integrated action to reduce and manage risk
Encourage prevention and preparedness in a COVID-19 environment.
The objectives were designed to ensure a holistic approach is taken to strengthening our society against the multiple hazards that could affect us.
Participating Agencies
Trinidad and Tobago Defence Force
Trinidad and Tobago Police Service
Trinidad and Tobago Fire Service
Trinidad and Tobago Prison Service
The Strategic Services Agency (SSA)
Ministry of Rural Development and Local Government
Tobago Emergency Management Agency
Ministry of Works and Transport
Ministry of Public Utilities
Ministry of Social Development and Family Services
Ministry of Health
Ministry of Finance
Ministry of the Attorney General and Legal Affairs
Ministry of Communications
Ministry of Sport and Community Development
Ministry of Education
Ministry of Energy and Energy Industries
Water Resources Agency
Trinidad and Tobago Meteorological Services
Ministry of Foreign and CARICOM Affairs
Office of the Prime Minister (Gender and Child Affairs)
National Commission for Self Help Limited
National Security Council Secretariat, Integrated Threat Assessment Centre
Tobago Emergency Management Agency

Ministry of Public Administration

Ministry of Digital Transformation

Ministry of Sport and Community Developme
HABITAT FOR HUMANITY AND THE TOBAGO EMERGENCY MANAGEMENT AGENCY SIGNS MEMORANDUM OF UNDERSTANDING, CEMENTING OUR PARTNERSHIP IN DISASTER RESILIENCE
On Thursday 3rd March 2022, The Habitat for Humanity's National Director Ms. Jennifer Messiah visited the Tobago Emergency Management Agency (
TEMA
). Ms. Messiah along with
TEMA
's Director Mr. Allan Stewart cemented the partnership by signing the Memorandum of Understanding between
TEMA
and Habitat of Humanity Trinidad and Tobago.
This agreement was created to assist our communities to disaster resilience, thereby better preparing them to withstand and rapidly recover from disasters and hazards.
Habitat for Humanity TT will be offering training to
TEMA
and its volunteers in Construction Technology, which includes such components as blueprint reading, concrete mixing, roofing, and project management. This training which began on March 1st, 2022 is intended to increase the capacities of communities to become disaster resilient and to build and enhance the skills of persons within these communities.
Both
TEMA
and Habitat for Humanity have committed to sharing information and resources with each other and engaging and consulting on National Policy as it pertains to disaster preparedness and recovery efforts.
Additional training offered by Habitat for Humanity included Geospatial Information Mapping, Disaster Risk Reduction, and Gender Mainstreaming.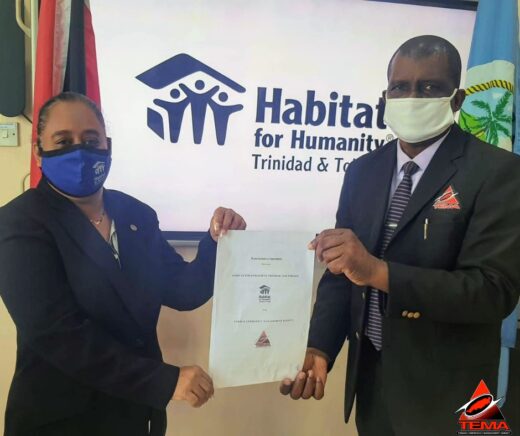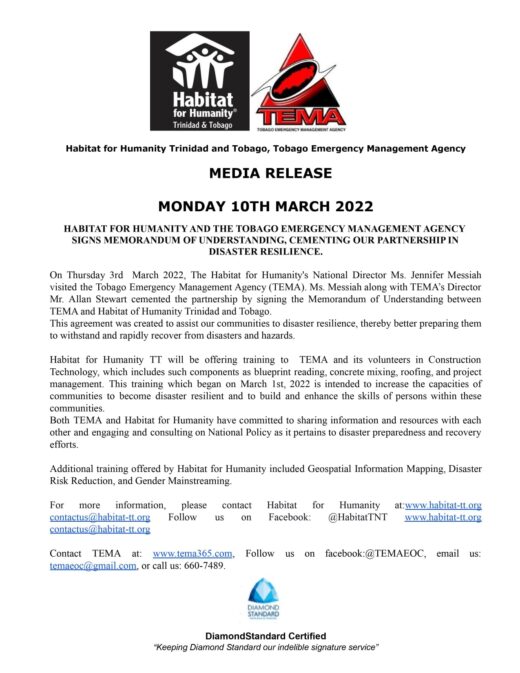 In light

of the islandwide blackout that recently took place in Trinidad, We at
TEMA

(Tobago Emergency Management Agency)
want to inform members across the nation on tips you should utilize to assist you if a power outage were to occur..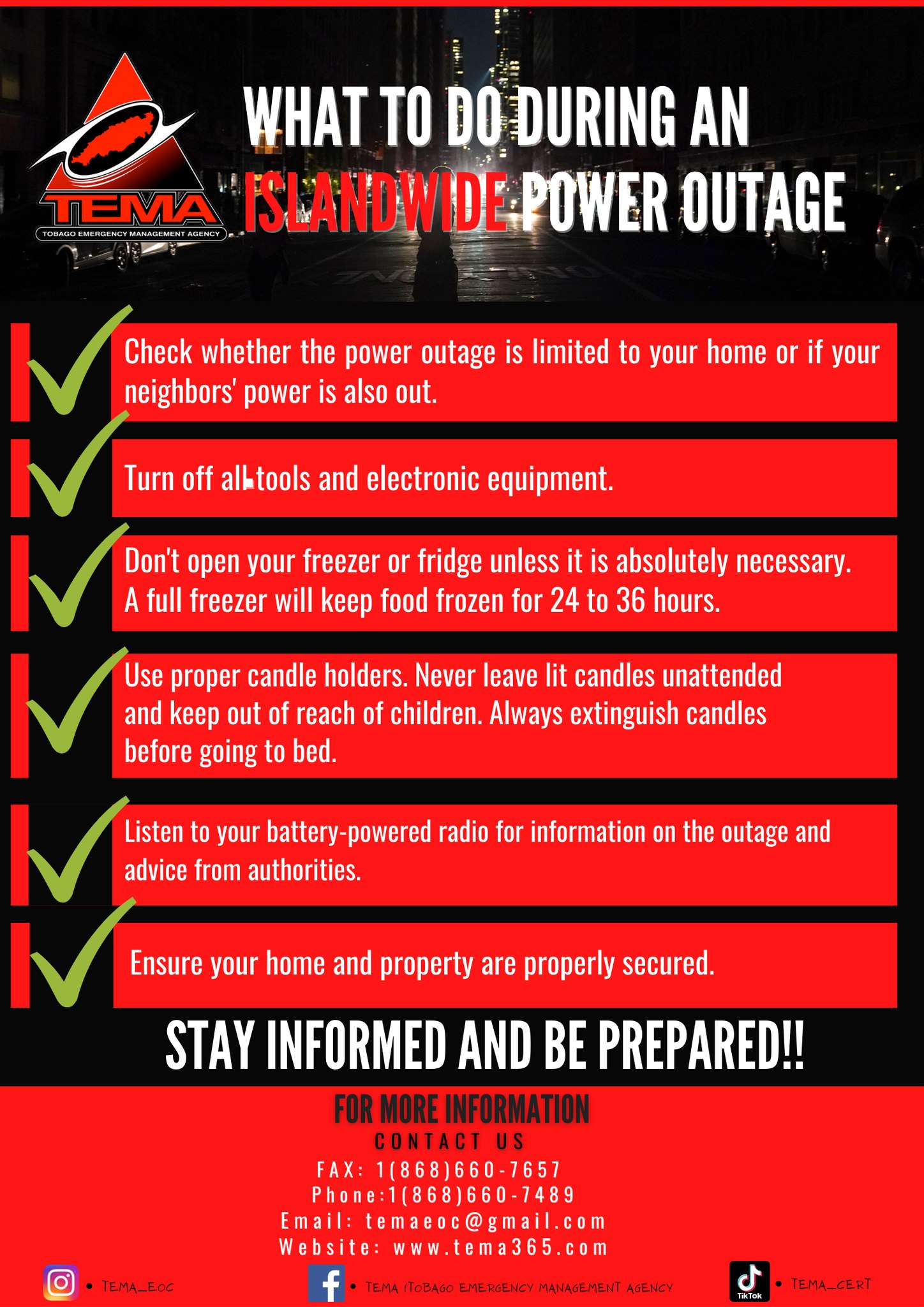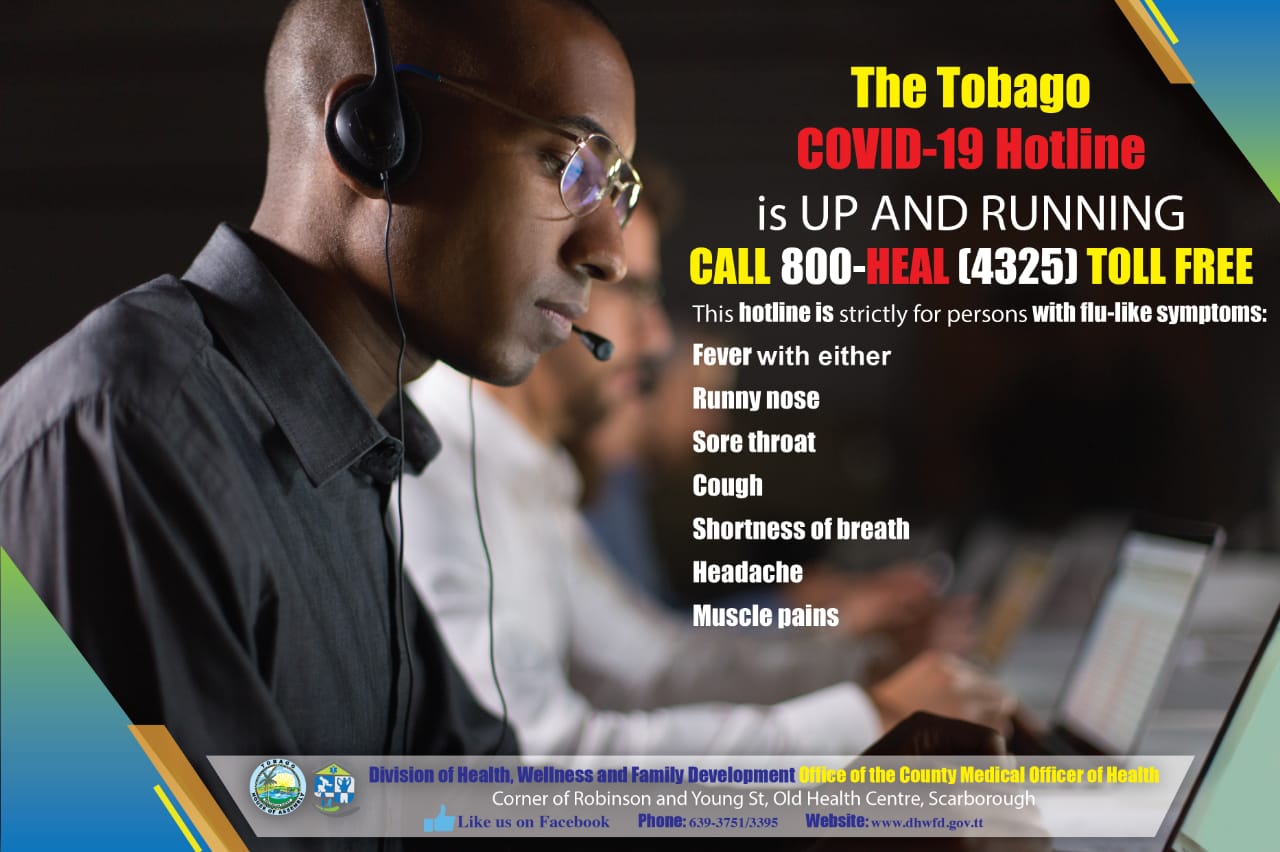 | | |
| --- | --- |
| | |